Calendar of Events
Upcoming events
Celebrate National Historic Preservation Month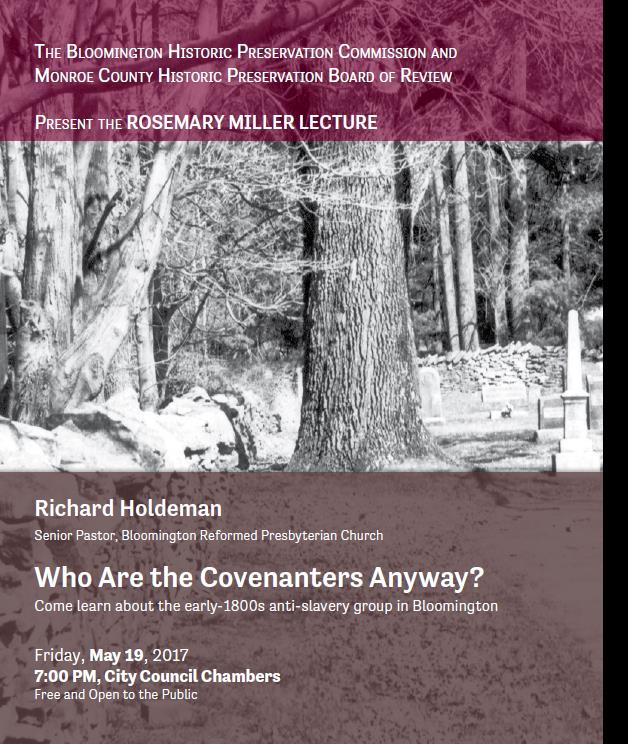 Rosemary Miller Lecture: Who are the Covenanters Anyway? – Friday, May 19th
Presented by Richard Holdeman, Senior Pastor, Bloomington Reformed Presbyterian Church, the talk will focus on the early-1800s anti-slavery group of Scotch Irish ancestry that had a profound impact on the founding and growth of Bloomington and Monroe County. It will take place at 7 PM in City Council Chambers.
Covenanter Cemetery Guided Tours – Saturday, May 20th
Guided tours will run from 1-4 p.m. departing every hour and half hour. Tour goers will learn more about the influential movers and shakers within the Covenanter community through those buried at the cemetery. The earliest grave dates from 1838 and many names are still prominent throughout the community. The cemetery is located at the northeast corner of Moores Pike/Hillside Drive and High Street. Parking is available at the tennis courts .2 miles east on the south side of Moores Pike. Organized by the Bloomington Historic Preservation Commission and the Monroe County Historic Preservation Board of Review.
Farmstead Museum Open Day May 27
Bloomington Restorations, Inc. invites you to the monthly Museum Open Day at the Hinkle-Garton Farmstead on Saturday, May 27, from 1-4 p.m. The Farmstead is listed on the National Register of Historic Places and is owned and maintained by Bloomington Restorations, Inc. It is free and open to the public and is located at 2920 E. Tenth Street in Bloomington. For more information call BRI at (812) 336-0909.