Calendar of Events
Upcoming events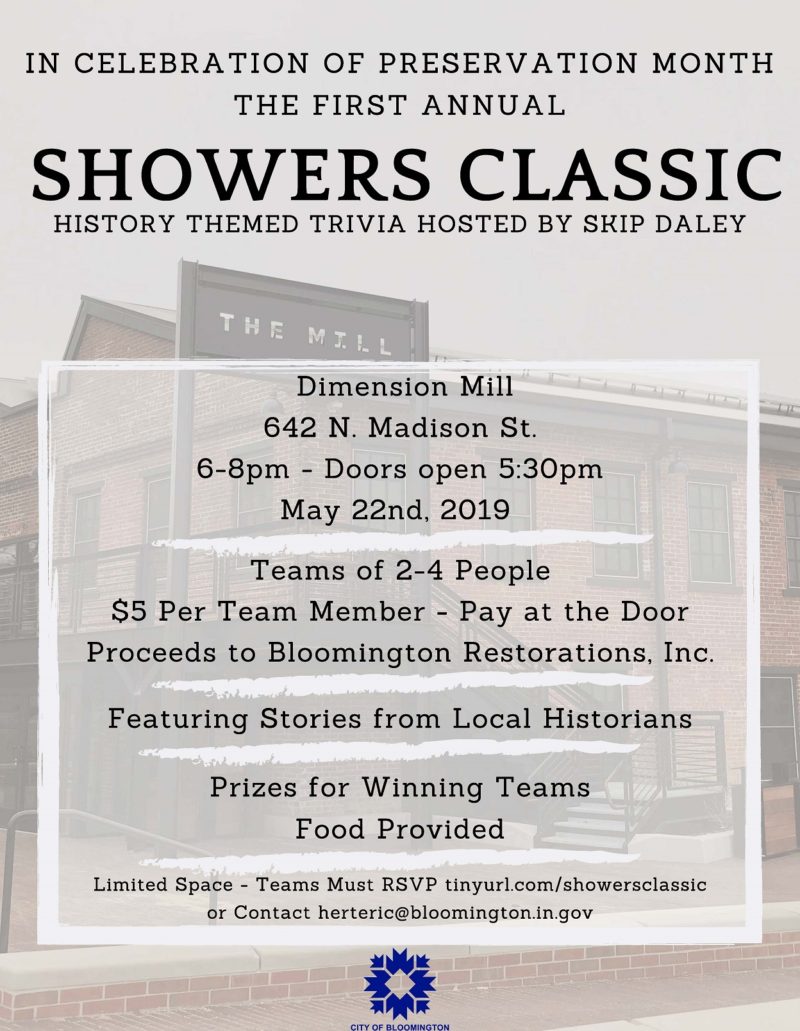 Hinkle-Garton Farmstead Open Day May 25
Bloomington Restorations, Inc. invites you to the monthly Museum Open Day at the Hinkle-Garton Farmstead 1-4 p.m. Saturday, May 25, 2019.   This Month's Open Day will feature "Plein Air Artists Lovely Renditions of the Hinkle-Garton Farmstead."  The paintings, created at the invitation of Bloomington Restorations, Inc. by members of the Bloomington Watercolor Society (BWS), the Upland Plein Air Painters ("UP") and Artists from Brown County Arts Alliance, include images of two historic homes, farm land, gardens and outbuildings.  These artistic creations will be in gallery and on display inside the 1892 Queen Anne style homestead monthly beginning with the May 25th Farmstead Open Day through August 31, 2019.
Paintings will be available for purchase Saturday, May 25th at the Farmstead and at subsequent monthly Open Days and events throughout the summer.  Individual artists will donate twenty-five percent of the proceeds from the art sales to pay for restoration of the Hinkle-Garton Farmhouse.  In addition, Visitors can enjoy the various plants, trees and the beauty of the volunteer garden. A variety of plants will be available for sale as well as jams, jellies and maple syrup produced by volunteers.
Friday Musicale and The Bloomington Old-Time Music and Dance Group with Mark Wiedenmayer will be hosting music in the parlor. Volunteers will give indoor tours of the Farmhouse.
The Hinkle-Garton Farmstead is sending a call out for Volunteers who might be interested in assisting with Farmstead tours one Saturday per month (usually the last Saturday each month) from 1-4 PM. Volunteer duties include introducing visitors to the Farmstead history and act as docents/hosts for the afternoon. Our Open Days are conducted in a very easy-going atmosphere, minimal training and commitment required and always under supervision and guidance. All that would be required is an ability to pleasantly engage the public and a 1-1/2 hour training. If interested please contact LeAnn Luce, Hinkle-Garton Farmstead Open Days and Events Coordinator at: lucebella50@gmail.com for more information.
The Farmstead, located at 2920 E. 10th Street in Bloomington, is listed on the National Register of Historic Places and is owned and maintained by Bloomington Restorations, Inc., an organization committed to the preservation of historic properties in Monroe County.  It is free and open to the public on the last Saturday of most months.  For more information, call BRI at 812-336-0909 or visit the site on Facebook at www.facebook.com/ Hinkle-Garton Farmstead