Stine and Market Streets, Stinesville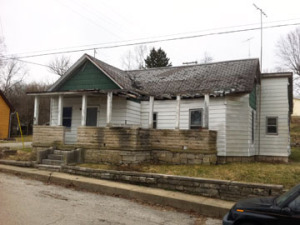 Just a block from the center of town, this two bedroom Queen Anne cottage needs a complete overhaul, but at this price, it's completely doable. Peel off the layers of added siding and uncover the original character of this 1890s house. Complete with a front porch, the house overlooks the town park and is a short walk from the Stinesville Merchantile and post office. Available as-is to anyone who agrees to rehab it.
Price $6,900
For more information, contact Steve at 336-0909 or bri@BloomingtonRestorations.org.